---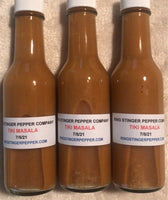 Here's the next of the around the world throw backs!! Tiki Masala is BACK BABY!!

Tiki Masala is a pineapple, papaya, coconut and ginger base with candied carrots, roasted garlic, lime juice, carmelized onions, Carolina reaper, habanero, fenugreek, mace, turmeric, cumin, coriander, cardamom, nutmeg, and bay leaf masterpiece.
Imagine a hot Thai version of root dr.