---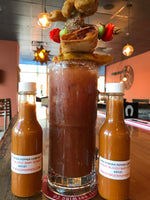 Ok y'all. The time is now. There are no more sh*tty bloody Mary's getting consumed with nasty hot sauce for heat. We brought the Thunder from down under. Sunday Bloody Mary Sunday is a bartenders best friend and the blessing to bad mixes everywhere.
We took Fresh tomatoes, charred tomatoes, smoked garlic, smoked onions, tons of dehydrated and fresh mixed hot and super hots, pounds of horseradish, pounds of celery and celery seed, limes and lemon leaves, white and black peppers, and the list goes on. This is as decadent add it is delicious. And you don't have to be a drinker to enjoy it as an amazingly flavorful wing sauce too!!

Thanks as always and dont sleep on this. It's pretty perfect!!