---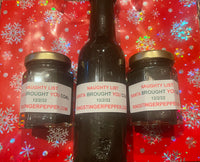 The next to the last Special holiday offering is here!! And it's more naughty than it is spicy! For those who have been a little spicy themselves this year this is the perfect gift! A winter warmer spiced sauce that is as aromatic as it is flavorful! Consisting of star Anise and anise seeds, cinnamon, cardamom, cloves, peppercorn, ginger, and a few other aromatic spices! The liquid base is our own house made bourbon barrel aged vinegar that provides an amazing bright sweetness to the sauce! For color we added activated charcoal so not only is it tasty, it's good for you! To achieve the flavor we wanted and thickness of the sauce, we sautéed fresh and dehydrated peppers, onions, carrots, and garlic together in our in-house created umami oil!!!
The result is a totally approachable sauce even the kids can handle with a flavor profile unlike anything else on the market today! A 2.5/10 on the heat scale.
Thanks as always and hopefully you weren't on the naughty list!!