---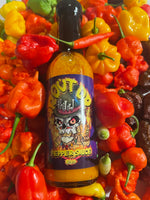 The Doctor is back with an Amazing new look!!
This is probably the most unique sauce on the market. In New Orleans they had a hot tonic. It was apple cider vinegar honey turmeric ginger salt and chili peppers. They swore it would cure anything. It was DELICIOUS!!! So...I added some carrots for the eyes, some garlic for the heart, and some pineapple to make your...never mind...anyways this is "The Root Dr"
Equal parts ginger, turmeric, and habanero, mixed with candied carrots, garlic pan roasted and oven roasted, unfiltered apple cider vinegar, rehydrated hot peppers from last seasons harvest and 3 whole fresh pineapple and 1 mango, local honey, sea salt, and love.