---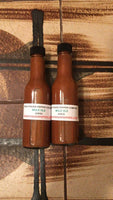 I hope y'all are ready for this one!!! We done changed the game again!!! This is Mole with a KICK. It starts sweet and chocolaty like will smith's grandma....and then the spiciness of a good Chris Rock joke comes into to play and burns you up from the insides.
We took the classic mole recipe and amped it up a LOT.
Tomatoes, onions, and carrots start this bad boy off. We then blend those down with veggie stock and more fire charred grape tomatoes, roasted and smoked garlic, and some salt and oil. We then build the back bone of dry spices with Cloves, allspice, cinnamon, cumin seed, and oregano. We threw the garden at it in fresh pepppers: Red Ghost peppers, Chocolate Bhutlah, chocolate Habaneros, chocolate scotch bonnets, peach habaneros, orange habanero, Serrano, Ringstinger F1, Anaheim chili and guajillo peppers!!! We finished this bad boy off with dark chocolate almond butter and Dutch dark chocolate powder and simmered the pot for days. This was a passion project and not one that will be repeated for a while!!
Get it while you can. I won't make again this year!! This is one of the most amazing sauces I've ever tasted let alone made.