---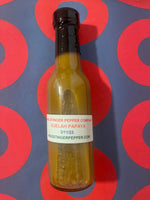 Aboard a craft sauce that I adore
I blended fruits and fruits a more
A blend of things much more than four
A king of sauce to hit your door.

This mixed fruit, mixed pepper mastery has papaya, pineapple, guava, mango, peach, strawberry, blueberry, lime, white and apple cider vinegars, roasted garlic, charred leeks, jalapeños and Carolina reapers, sea salt, and love. This is the perfect fruit punch with a kick! The main builds are papayas and jalapeños. That just wasn't enough kick or depth of fruit flavor for me so it got amped up with all the fruits from the green house plus some fresh dehydrated Carolina reaper powder for that lingering burn. As will happen when you mix mild and super hot…the result is a 5/10 on the heat scale and that lets the amazing fresh fruit flavors shine through. This is a chicken salad game changer, a fresh fish taco dream, or an amazing glaze for a pork tenderloin or tofu!!!